THE CRASH
OF MH370
Recently Retired A380 Airline Captain
Explores the Mystery of the Doomed Airliner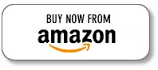 Reader
Reviews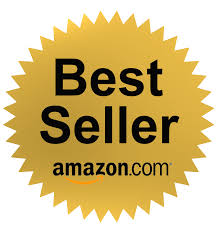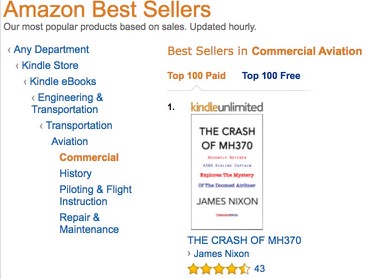 ________________________________

Highly recommended
By Captain Maurice Keegan


A detailed examination of the facts we know up to this point plus a pilot's perspective on the likely events which lead to the disappearance. Included are recommendations to the aviation industry including updated aircraft tracking standards and flight data communications with ground stations. Highly recommended.


Airline Transport Pilot (20,000 hours)
Airbus Simulator Examiner/Instructor
Flight Safety Investigator (SCSI)

April 13, 2017
________________________________

A well written account
By Captain Mark Hess


A well written account of a modern mystery which is a factual, intellectual and objective view of the event.

Boeing 777 TRE

April 13, 2017
________________________________

A very plausible answer



By Capt. Jim Stagman


Very well researched book which gave me an excellent insight into this event. What was a complete mystery in my mind, now has a very plausible answer. A thoroughly enjoyable read.


Retired Airbus TRE

April 13, 2017
________________________________

Well researched



By Capt. C. Van Dooren


A very detailed, well researched, factual and unbiased report on a tragic accident that should never have happened.

A380 TRE

April 13, 2017
________________________________

This could happen
to anyone of us



By Captain Veronica Zunic


James, a respected colleague of mine, has outdone himself with The Crash of MH370. Forget the conspiracy theories and the hype, James has gone into extensive research to try and provide some answers. As a pilot myself, his opening sentence from his sister, touched a raw nerve … this could happen to any one of us and we owe it to ourselves and our aviation community at large, to find the truth and ensure this does not happen again. You have done the families of MH370 proud. Thank you James.


EASA A330/350 TRE and actively flying A330.
Accountable manager of EASA ATO (GreenDot Aviation Ltd)

April 13, 2017
________________________________

If you read one book about
MH370, Captain Nixon's
'The Crash Of MH370'
should be it



By Kilbarchan


Disclosure: I received a review copy of this book. Finally after three years we have a well reasoned history of the MH370 tragedy by someone who understands: a recent pilot of large, passenger aircraft with experience in safety. Captain Nixon documents the flight from pilot check in to the eventual crash in the Indian Ocean and the search for the remains by the Australian Transport Safety Bureau. The documentation includes more than 75 footnotes and supplementary web site materials. The book contains a glossary for readers, suggestions for further reading and the Captain's examination of theories and his own analysis. The most highly significant section of the book is Captain Nixon's recommendations for the airline industry. Chapter by chapter 'recaps' are very helpful for the lay reader. I hope that further editions will be forthcoming as new information becomes available. A thoughtful read.

June 15, 2017

________________________________

An intriguing read
By Julie Moffatt


James gives the reader a fascinating insight into aviation in all aspects. His detailed research and explanations make for an intriguing read - a great page-turner - one can only hope the remains of MH370 are eventually discovered.


April 10, 2017
________________________________

A well thought out explanation
of a most puzzling incident



By Amazon Customer
Amazon USA Site


I enjoyed reading this ebook, and even though I am an aviation professional myself, I believe anyone could easily follow the discussion and arguments made. My only criticisms are that there are some fairly sweeping statements and generalisations in places, and sometimes the tone seems a little frivolous. However, the summary at the end of each chapter brings things back to a clear stating of what the author is conveying. I agree wholeheartedly with the conclusions and recommendations at the end of the book. If they can put a camera in the tail of an aircraft so people can get a nice view of the world, why haven't they put one in the cargo compartment and the wheel wells? Well worth a read.


April 10, 2017
________________________________

I will wager that this author's
analysis will be proven correct
or partially correct



By Modupe Hendricks
Amazon USA Site


I am a scientist by training and have never flown or been interested in flying a plane. What I enjoy about the authors writing is that it's logical and that he uses facts to support every one of his thoughts. After each chapter, he recaps the important parts of this section. Until the flight recorder is recovered from MH370, no one can be sure why the jet went down; nevertheless, I would bet that the authors analysis will be pretty close to correct. I agree with the author that most analysis of disasters that take place on network news is worthless and almost always wrong. I really enjoyed the authors writing style and will look into other books by this author.


April 7, 2017

________________________________

The simple explanation
is usually the right one …



By Bindi Ouston
Amazon USA Site


A well thought out, logical and concise essay from someone who has the experience and training to envisage how this scenario could evolve and lead to the known facts. Without the FDR we will never know, however for the first time in 3 years I feel that this disaster has moved from the unknown to a more comfortable likelihood. . . Thank you James Nixon.

April 4, 2017
________________________________

Solid analysis that ends up proving
there is no explanation



By Old Asia Hand
Amazon USA Site


The strength of the author's analysis is in debunking virtually every theory that has been advanced to explain the airplane's disappearance. The weakness of it is in providing his own thesis. He does such a wonderful job destroying the theories of others that he is left with no possibility to advance himself other than one that is both commonplace and, honestly, downright lame. It is as easily destroyed using his own analytical tools as all the others. So what has he proved at the end of the day? Mostly that the plane's' disappearance is ... a mystery.


April 4, 2017
________________________________

Brilliant



By dVaridel
Amazon USA Site


At last, a theory that adds up! Well researched but very easy to read & understand. Should be required reading for all pilots.


April 4, 2017
________________________________

An unbiased, factual look


By Mark Fenton


As a TRE on the A380 and having qualified as an aircraft accident investigator in the South African Air Force, I found the book to be very informative and easy reading. The book manages to give an unbiased, factual look at the tragic event, in a manner that will appeal to all readers ranging from the aviation specialist to the man on the street.

A380 TRE
April 4, 2017
________________________________


An excellent read



By Vector-1
Amazon USA Site


Excellent and easy read which summarises a lot of the information and evidence which would otherwise involve looking through multiple sources including the official 586 page Factual Information Report. The only omission relates to the most obvious and indisputable fact about the whole incident. What if the intention behind it was that it would never be found? Written by an aviation professional for those both with little knowledge of the topic and those who've followed every new piece of information on what is arguably the greatest aviation mystery of all time.


March 29, 2017
________________________________

Great perspective, easy read



By Ray H
Amazon USA Site


The reviews already written state: great perspective, easy read, no hysteria, professional analysis, well written, minimum of jargon, satisfying, concise, detailed, great storytelling and writing skills, thrilling read, intelligent, factually examined, well balanced, informative. Yup … I agree with everything as stated. How can you improve on that? Five stars!


March 28, 2017
________________________________

Concise And To The Point



By unixguy
Amazon USA Site


I enjoyed this short read. The writing style is compact and full of insights. I particularly appreciated his critiques of the risk analyses performed by academics and engineers with no connection to flight crew experiences. Well done!


March 28, 2017
________________________________

A well written easy read, a must for
anyone interested in accident investigation
without the acronyms or jargon.




By DennisW
Amazon USA Site


A forthright no hysteria professional analysis of the flight of MH370 from an experienced senior airline captain leading to a set of conclusions which cannot be faulted or ignored. All this with a minimum of jargon or technical hyper-analysis. The argument for the continued search for MH370 is critical to all travelling public as are the suggested actions needed to avoid it happening again. This book is long enough to get all the facts and short enough to get the picture in one sitting.


March 27, 2017
________________________________

Best Book On MH370



By Ken Mullins
Amazon USA Site


By far the best look at the facts and drawing intelligent and plausible scenarios about MH Flight 370. This is a quick read yet covers the topic thoroughly. I am confident that some day the wreckage will be found and likely we will have a better idea of what happen. Two thumbs up!


March 26, 2017
________________________________

Great Insight!



By George R Morales Jr.
Amazon USA Site


Great perspective from a highly experienced A380 captain. Who better to shed light on an aircraft crash/investigation than someone like James Nixon? Great read, easy to understand, and I agree...the search must go on!!

March 25, 2017
________________________________

Five Stars



By Cat On A Cloud
Amazon USA Site


Best book on MH370 yet. Plausible summations. Thank you for weighing in!


March 21, 2017
________________________________

The Other Side Of The Story



By Amazon Customer
Amazon USA Site


After 50 years of being gainfully employed in the aviation industry, if I have learnt one thing it is that there are always two sides to a story. Like a lot of my fellow aviators, when I first heard of the disappearance of Flight MH370, I thought – 'Damn, not another pilot suicide'. However, James' well researched book has reminded us that we haven't heard the other side of this story. There are enough anomalies to the suicide theory to support that James may be correct in suggesting that the crew were probably doing what they were trained to do, and were attempting to get the aircraft back to a suitable airfield before being overcome by whatever was occurring in that flight deck.

The only possibility of finding out what really occurred is to find the wreckage – it may well hold the secret that will prevent future aircraft losses – and we owe that to the passengers and crew whose lives will be saved by this knowledge.

In the meantime, the industry should take notice of James' suggestions – every one of them is worthy of consideration.

March 21, 2017

________________________________

Credible and Commendable.
You will indeed "learn stuff
you've never heard before"



By Amazon Customer
Amazon USA Site


As a former Airline pilot and Air Traffic Controller, I now read most MH370 analysis with skepticism. For the first time, I've found a review of the facts that raises no eyebrows. Don't mistake that for a book that is uninteresting - it's quite the opposite; in fact, this is the best aviation book I have read in several years.

When James tells us "Stick around; you're going to learn stuff you've never heard before", he's not kidding. There are countless gems of wisdom in here that every pilot and controller will find fascinating, and also, very useful in practical application. His theory of the reason for the incident is the most credible I've read. And his exoneration of the two pilots on this flight is not only justified, but highly commendable. James, thank you for writing this book.


March 18, 2017
________________________________

Informative, concise
and excellently written



By Maxim Gurvits
Amazon USA site


A satisfying, concise yet detailed and well-written work about the unclear and mysterious circumstances of the MH370 tragedy. James has a unique combination of 30 years of pilot experience and great storytelling and writing skills, making for an unlikely thrilling read. He writes about complicated tech stuff with easy grace, empathy for the victims, optimistic that we must understand this story so it doesn't happen again. A rare and unexpected find in popular tech writing, right up there with Richard Feynman and Carl Sagan.


March 17, 2017
________________________________

Factual, well-researched and
presented in an entertaining manner



By Paul Carruthers
Amazon USA Site


As a fellow A380 Captain, I was very impressed with James Nixon's delivery, not only from an aviators viewpoint but in language that could be readily comprehended by the wider community. Facts were presented without emotion or running a particular agenda. It is a pity some of the world's so called aviation experts don't take a leaf out of James' book and present the facts in a professional and unbiased manner. It was written in a way that allowed you, the reader, to formulate your own questions without a particular pathway being forced upon you.

Factual, well researched and presented in an entertaining manner. Thoroughly enjoyed the book.


Paul Carruthers - A380 Captain

March 17, 2017
________________________________

A must read!



By Trish
Amazon USA Site


A self confessed plane nerd, I could not stop once I started reading this book! It's one of those incredible mysteries that everyone has a theory on but what better person to dispel those theories than a pilot with over 31 years flying experience! The terminology used in this book was completely foreign to a NFF (Non Flying Folk) like myself but was clearly explained by the author, making it an enjoyable and easy read. I highly recommend this to anyone with a passion for aviation or an interest in one of the greatest unsolved mysteries of our time.


March 15, 2017
________________________________

A fresh and far more plausible
theory on the loss of MH370



By Mark
Amazon USA site


As professional pilots we are exposed to many air crash investigation reports over the years. Many of these are understandably extremely boring and tend to lose the reader and purpose quickly. When I switched on my Ipad to review Capt. Nixon's book, I was thinking the usual thoughts of here we go again, another tedious long winded read. Well, I was to be proved so wrong and amazingly finished reading the book in just two sittings.

The extensive research with solid factual backing and touch of humour, made for an extremely easy reading book that made an enormous impact on me and my professionalism as a whole. Even after 36 odd years in aviation I learnt an amazing amount as well as being given lots of food for thought. And as we say in aviation, the day you stop learning is the day that you will probably die. All the usual outlandish and sometimes silly conspiracy theories are laid to rest in an efficient and professional manner.

I can highly recommend this book to every pilot no matter what type of flying they might be involved in. This book would also be very interesting and useful to anyone else involved in or with an interest in aviation. Even the layman I am sure would find it relatively easy and interesting reading. Well done Capt.Nixon and a pleasure having known you and been a former colleague.


A380 TRE
March 12, 2017
________________________________

A Great Read



By Ian Hunt


As a former military pilot and retired A380 captain, I can attest to the technical accuracy and depth of this book. It's also an engaging read, written in a style that can be appreciated by an aviator, yet still understood by anyone whose airborne experience is limited to choosing "chicken or fish".

I really enjoyed the book - and learned a lot. This isn't surprising; I learned from the author even when he was my first officer in an A340 over a decade ago. Well done James!


[Editor's Note: Ian Hunt is too kind. I have learnt much more from him than he could ever have learnt from me!]
March 11, 2017
________________________________





What Happened To MH370?
Tony Moclair asked about the new book
"The Crash Of MH370"
Click the link: 2017Mar13_3AW_MH370
________________________________

A Thoughtful &
Interesting View




By Prani West


James Nixon brings 30 years of professional knowledge to his focussed analysis of the facts and fiction associated with the disappearance of Malaysian Airlines flight MH370. The book reflects his careful and extensive review of the official investigation as well as dealing with the many theories (including some of the wilder 'conspiracy theories' ) that developed and persisted in the absence of any conclusive answers about what really happened. James advances his own well-reasoned theory about those final, fatal minutes aboard and provides a compelling explanation as to why the extensive internationally co-ordinated search has to date failed to find the wreckage.

For those outside the industry, the technical terminology is explained by way of helpful analogies, and each chapter contains a plain English 'recap' section which distils the key points. A thoughtful and interesting view of this highly debated and still unsolved mystery.


March 11, 2017
________________________________

A Bloody Good Book


By Sir Eric Eastlake


Kept me awake all night. I was firmly convinced that aliens had hijacked that plane but after reading your very informative and well constructed book I am now inclined to agree with your explanation. Well done James.


March 10, 2017
________________________________

First class research





By Amazon Customer
Amazon USA Site


Being a fellow aviation colleague of James I found his insight, technical knowledge and research first class. Until, if ever, flight data recorders are found, the mystery of MH370 will remain pure speculation. Unfortunately the financial will to continue the search is unlikely to eventuate. Perhaps James' book might stir some interest in doing just that. Highly recommended read.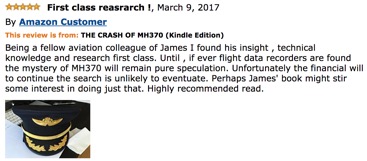 March 9, 2017
________________________________


MH370 - An informed review
of the evidence to date





by Peter Krygger
Amazon USA Site


As a fellow airline pilot I enjoyed reading James' book. It gives an informed insight into many aspects of the MH370 crash which cause it to be a unique and important event in airline history. The book deals with technical and operational areas that are glossed over by other authors and debunks many of the theories put forward by less informed persons. James develops his own controversial theory about what may have happened. This theory has plausible aspects, but also relies on a number of technical and human factor assumptions that if viewed more critically than is dealt with in the book would raise some further credibility questions. The reality is that no theory put forward to date fully answers all the questions raised by the disappearance of MH370. The airline world hopes that one day the search will resume and the wreckage found so one of aviation's most remarkable mysteries will at last be revealed.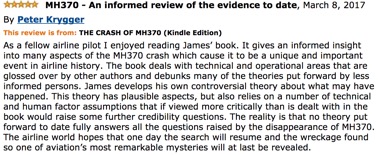 March 9, 2017
________________________________

Impressive




by Amazon Customer
Amazon USA Site


An intelligent and insightful read. The author, James Nixon has researched with his meticulous style. Recommend as a must read. Congratulations James Nixon.





March 8, 2017
________________________________

A modern-day Titanic




by Brian Wilson
Amazon USA Site


Captain James Nixon logically and systematically explores the facts of what is a modern-day Titanic – He opens the flight deck door revealing the complex systems and procedures and uses his 'pilot-logic' to explain the unprecedented loss of 239 lives, all of whom like 11 million people worldwide everyday simply boarded an ordinary flight.





Brian Wilson
Airliner-Insider.com.au

March 8, 2017
________________________________

A Necessary Book





by An Amazon Reader
on Amazon USA site


Well documented and written in Nixon's unique, 'matter-of-fact', no nonsense and often witty voice. Readers not familiar with airline terminology will easily follow the flight path of this terrible incident, as Nixon provides clear explanations and recaps along the way. He has expertly dispelled conspiracy theories and hopefully assisted families and friends of all the souls on board the MH370 crash in their grief. A necessary book.




March 7, 2017
________________________________

Finally someone with
real aviation credentials




By Will Lanting
On Amazon USA site


With the ever increasing challenge between an industry like aviation and the media, events such as MH370 get frustratingly skewed and sometimes fanciful. Finally we have a book on the MH370 disasters that says the known facts and is presented to you by an author that has real aviation credentials, coupled up with real aviation experience.

After reading this book you will come away with all the known facts explained well, some possible theories to consider and it will certainly arm you with facts that we in the aviation industry know today. It certainly gives credence to continuing the search for 9M-MRO so as the aviation industry can do what they do best to make aviation safe for all that fly.





February 28, 2017
________________________________

Finally! Factual based reading on
MH370 and someone whom actually
has a clue what he's talkin' about.





By Linda Blakeman


I have been following this story on the missing flight of MH370 since it happened. I will be the first to say, upon reading the articles on every source possible, I have spent more time viewing spelling errors or outright 'Hogwash' on this story (for the sake of printing one) and not to mention, the "Too many chiefs and not enough Indians scenario", in how this incident has been handled from day one.

James Nixon's book,"The Crash of MH370", however, is far from that. Between his 30 plus years under his belt in the aviation field, his obvious research in and factual-based information provided to the reader, in my opinion, makes this the most credible and informative read yet and most definitely, a 'MUST READ'!

The search for MH370 must continue indeed!

February 28, 2017
________________________________

Fate Is The Hunter




by Michael Hackwood

I have known James for over twenty years and he has always impressed me with his unswerving search for ways of improving all things aviation.

The Crash of MH370, is a fine example of his analytical yet very approachable style of delivering a great story.

The anecdotes throughout are real and at appropriate moments very humorous, which lightens the weight of this tragedy. (I had always wondered who paid for the light bulbs along the India/Pakistan border… and I also now wear different coloured socks to work!) They also provide us with an interesting insight as to how the brain of an Airline Captain is wired.

The layout of The Crash of MH370 reminded me of how airline pilots in a multi-crew cockpit deal with a failure in the aircraft - aviate (review)/ navigate (review)/ communicate (summary).

James leads us through the well-known details of this tragedy by discussing and then discounting the theories and red hearings, and finally delivering us with a compelling ending. There can be no question that the search for MH370 should resume at the intersection of the 7th arc and 35 degrees south.

All aircraft accidents and incidents, whether they are an ultralight or an A380, serve as a strong reminder of the fact that while aviation remains incredibly safe, it is still at the mercy of fate … and as another wonderful author said many years ago, fate is the hunter.

Michael Hackwood
Airbus A330 Captain
China Southern
LinkedIN Profile

________________________________

A page-turner for this
aircraft passenger




By Amazon Customer
On Amazon USA site


As one who has been following this story in the general press, I couldn't put this book down as it demolished theory after discredited theory about what happened that night. Those unfortunate pilots are treated with the respect that any professional deserves (unless proven otherwise), and the author's best informed insider's guess about what really happened makes sense to me.

I hope for everybody's sake that the search for the black box (in the relatively small area remaining, according to the book) is resumed asap, so we can all board our next long haul flight with confidence.





February 25, 2017
________________________________

Well written & easy to read book
that sheds light on the mystery




By Amazon Customer
On Amazon USA site


An informative, well written and easy to read book that sheds light on the mystery of MH370. The author is obviously very knowledgeable about the intricacies of international flight operations and the workings of heavy aircraft. He takes the book one step further offering a comprehensive guide of recommendations to ensure this type of scenario never happens again. If only all pilots were as knowledgeable and safety focussed as the author. A definite 'must read '.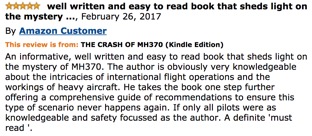 February 26, 2017
________________________________

Everyone who has any interest
in aviation should read this book





By Joe Daaboul


This was a great read. I found it very informative which gave me a more in depth view of what may have happened to this flight. A lot of information we the public were not told, or made aware of, during the search has been very well explained by James. I suggest everyone who has any interest in aviation should read this book. Loved it and its contents. Well written James. Thanks for sharing.


Joe Daaboul
Discount Ski Tubes & Gear

February 28, 2017
________________________________

Did enjoy it very much





Seonaid


I made the "mistake" of starting this before bed and I was hooked well into the dark hours between dusk and dawn. Maybe it's the technical/not too technical info mixed with the personal that draws one in. Maybe, it's the wonder of, can this happen to me? In these days of connectivity, we want an immediate text back or a call answered right now. Here, we have a plane flying in a seemingly random pattern through the sky, loaded with fuel and passengers and flight crew. They don't respond, but its hours before anyone on the ground notices that they're right off the radar. They are gone.

Author/Retired Airbus Pilot James Nixon leads us through the last hours of Flight MH370 testing "what happened" theories from others. But, Author Nixon has his own theories and the difference here is his 31 years' experience as an airline pilot flying these very types of air transport: he's not telling us what might happen during flight, he's telling us what does happen during flight. The author's closing airline safety recommendations are an eye opener to the odd mix of modern and archaic methods and equipment used in the industry that keeps us moving around the world.

Seonaid
The Shiftworker's Guide

February 28, 2017
_______________________________

An insightful view of the world's
greatest aviation mystery





By Phil McConnell

On Amazon USA


I write this as a Lecturer in Aviation at a major Australian University.

So why has the wreck of MH370 not been found? Reading this fascinating, almost forensic, investigation into the world's greatest aviation mystery provides many insights into this question. It's hard to imagine that a huge B777 can be truncated into an object the size of a bus, sink 6,000 metres to the ocean floor, be buried in mud, and be located in an area the size of the continental United States.

The author of this book is clearly a highly experienced industry professional, and this is personified as he takes the reader through the known facts and the many theories. The book covers no new ground —how can it when the wreck has not been found— but brings clear aviation expertise to covering the many theories regarding MH370. The more outlandish ones can be easily disproven by amalgamating known facts, but of course the mystery remains.

The author does advance a theory of his own, based on his years of experience on the flight deck, and its worthy of much consideration. Overall this book adds considerably to our understanding of the world of aviation and should be a must buy for anyone with an interest in aviation safety.



Phil McConnell,
Lecturer in Aviation, Swinburne University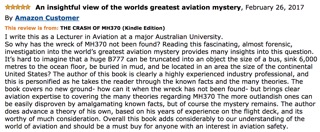 February 26, 2017
________________________________

A pilot's viewpoint: very good.
Flight path crash location: poor!





By Dennis H
Amazon USA review



The book does give a considerable amount of insightful information from a pilot's perspective about the what the pilots of MH370 experienced. The author included a lot of information about how pilots train for dealing with emergencies; how the pilots of MH370 may have reacted to a smoke emergency, which he feels was likely the cause of the diverted flight. The "Recommendations" for improving aircraft is very good. From this viewpoint, the book could easily be graded a 4 or 5.

The reason I gave it an overall 3 is the information related to the flight path and locating a likely crash location in South Indian Ocean is poorly substantiated. The evidence the author presents is merely a rehash of the ATSB and IG mantra over the past 3 years saying the plane can ONLY be in the SIO. Without questioning debris drift models, that debris found may or may not have actually been on MH370 March 8th, the accuracy of the Inmarsat data (raw data has not been released), and Lido primary radar data not accurate, etc. Finally, the author presents no other credible and viable flight path scenarios.

I received a complimentary copy of the book for review.




________________________________


5 out of 5 on everything but accuracy.
Can't say anything about accuracy until
we find it. Maybe we will all be surprised.

By Mike Chillit


Glowing Comments: Easy to read, well organized, logical, not laborious. Author is a gifted writer

Other Comments:
Debris does not consistently drift to the Mascarene Islands from -35°S;
Debris must be no farther south than -28°S to consistently reach the Mascarenes;
Debris must be no farther north than -20°S to consistently reach the Mascarenes;
The Seventh Arc is probably incorrect;
The Sixth Arc is more likely, and is very close to the 7th Arc;
BFO is not a useful metric; even with known flight paths, it has proven to be inaccurate;
NOAA (and presumable David Griffin) have just completed a drift analysis that puts the likely location near Zenith Plateau;
Estimates based on an average drift time of 508 days are empirically untenable;
The average drift time from areas that consistently hit the Mascarenes is about 230 days;
There was almost certainly MH370 debris on the Mascarenes by October 2014.



Mike Chillit's website Seventh Arc is a must see on the subject of MH370
See his most-recent plea for a fresh approach HERE

February 26, 2017
________________________________

A fascinating and factual
account of the tragedy of MH370






By Lynne Travers


"The Crash Of MH370" is a fascinating and factual account of the tragedy of MH370, written in a language most of us can understand and certainly with a sense of compassion, wit and style!

Even now, until more evidence of the disaster is discovered and proved its worth, James' viewpoint is not unrealistic but, perhaps, an inescapable reality, certainly not to be ignored.

Pleased to also read that some positive safety measures have also been activated as a result of this awful catastrophe.


February 24, 2017

________________________________

The best technical story I've ever read

By Tim Ferrier


This is the best technical story I've ever read. I couldn't put it down, and now l want that last area searched to find the answers. So lets hope that this story helps improve airline travel


February 22, 2017
________________________________

Highly recommended

by Julie Davis


A must read for all aviation enthusiasts, air travellers, and anyone perplexed by the mystery that surrounds the disappearance of this plane (most of us). Extremely well researched, impeccable references, fascinating unpacking of the circumstances surrounding the flight, well documented and argued alternative theories, and considered conclusion as to what actually happened. The author finishes each chapter by helpfully "recapping" his findings. From someone with many years of first hand experience on international flights this is an absorbing and knowledgeable review. Highly recommended.


February 22, 2017
________________________________

The Ultimate Detective Story





By: A passenger grateful for
capable and intelligent pilots.


A complex story made easy to read as well as being the ultimate detective story – even the author has to guess the outcome! Let's hope the wreckage is eventually found to clear up what really happened.

Not only does the author's suggested explanation make sense, his recommendations for improving air safety are compelling. This man should be on the board or committee that oversees international air safety.


David McKenzie
February 22, 2017
________________________________

Doomed Airliner mystery explained:
THE CRASH OF FLIGHT MH 370.





by Julie Wallis


James' language is concise, very easy to follow and the narrative is extremely well written ...(in that it is very easy to understand.) It is very interesting and the use of common or colloquial airline terminology (and it's relevant definition ) makes the story very, very interesting to read.

The book's description of the use of physics, gravity, mathematical formulas and the satellites deployed by remarkable men make it a most remarkable read and a practical tool for enticing young people to understand why bother studying such subjects! The same can be said for the talents of the oceanographers who worked tirelessly in the search.

James' personal aviation experience is just fascinating and gives a great insight into a most perplexing aviation disaster.

I found it a thoroughly enjoyable read.

February 22, 2017
________________________________

Finally some common sense





by David Opperman


Finally, a factual, well researched and thought out book. It is a pleasure to read a book that will makes sense to everybody. Coming from the industry it was frustrating to read all the theories that just did not make sense. The pilots I worked with were all disciplined and careful. This book allows the public to read about this tragic flight from a professional experienced pilot. It conveys the high quality of selection and training of aviation staff, air and ground crew.

The book gives credit where due, as well as shortcomings, and what can be done to make things safer.



David Opperman

Retired avionics technician


February 22, 2017

________________________________

Interesting and informative read




By Sunil T.
On Amazon USA site


Crash of MH370 by James Nixon is an interesting book. It is well written and is very readable. He is a retired big jet captain with loads of flying hours under his belt, it shows in his writing. His writing style is easy and full of anecdotes. The book reads like a novel. It is well organized and very well presented.

First part of the book deals with the known information, the radio conversations between the pilots and ATC and the radar plots. The second part of the book deals various scenarios that have been suggested as plausible and why most of them do not add up. Finally in the last part of the book, the author, using his experience in piloting big jets, has come up with a very plausible explanation as to what might have happened. He uses the famous Occam's Razor principle, which says that in a situation where there are many possibilities, most of the time it is one with simplest explanation or least number of assumptions that is true. Of course none of us will know what really happened until the wreck is found and the data recorders are recovered and read.

The book does not answer all the important questions such as why the search did not get started until 4 hours after the last communication from the aircraft and there are some other minor issues that are not fully addressed. However this is a very readable and informative book.






February 22, 2017
________________________________

Excellent Read





by Mick Rooney


In The Crash of MH370, James Nixon has concisely and factually examined the greatest aviation mystery, bringing to bear more than 30 years as a pilot flying some of the most advanced and technical passenger aircraft ever built. When you want an expert opinion you ask someone with the experience of sitting on the flight deck for a living and someone who understands the technical and human aspects facing pilots today.

Far too many books have been written about MH370 by well-meaning overnight armchair experts, and conspiracy theorists looking to sow the seeds of their latest political, cultural hang-ups, and fantasy plots for the next Tom Clancy novel. As an aviation journalist, I've read my share of books penned by people who woke up one Saturday morning in 2014 and magically knew the difference between an APU and an SUV.

From the outset of this book, Nixon reminds his readers that the simplest explanation to an air crash is often the one closest to the truth and that there is always the danger to attribute what we don't understand to the nefarious or elaborate theories and scenarios.

Working through a number of theories, he presents his own opinion and theory on MH370 and 13 recommendations the industry should examine and implement.

An excellent read if you really want to cut through the misinformation and BS written about MH370.

Let's search on. The aviation industry needs it, and the flying public; but there are also 239 souls who deserve it at the very least.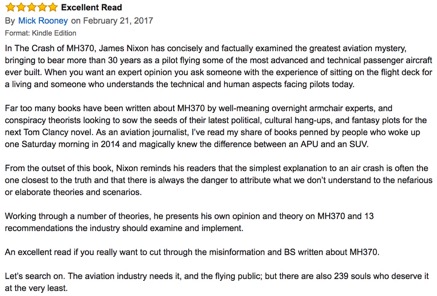 Mick Rooney,
Editor-in-chief at The Independent Publishing Magazine

February 21, 2017
________________________________

Great work ... anyone interested
in MH370 should read this





by TRK
On Amazon USA site


I have been following the story of MH370 since the beginning and I have read books and articles from a lot of different sources. Even after all I have read, I learned a lot of things from James Nixon's book. The insider perspective from someone who has been in the industry for so long gave me a completely different outlook on how the whole mystery could have gone down. All of the facts are spread out for you with relevant commentary as well as expert and honest opinions on all of the popular theories, as well as a theory of his own. If you have been following this story like I have, you should read this book. You will most likely come away from it with knowledge you didn't previously have.




________________________________

First class work
by a first class man





Well-written, well-researched, no-nonsense and factual- I am glad James has produced something which every media outlet should be talking about. The most important thing about this book is that it is written by an expert and not by any other journalist or so-called "Aviation Expert" (and there are plenty of those lurking around to get their 15 minutes on BBC and CNN).

James' work is first class. Enough said. Just go and read his book and you will know why I say so. He deserves more mention than he gets. A true aviator and a true professional in every sense of the word. I look forward to reading more from him.




Navjot Singh
Website

February 21, 2017
________________________________

Easy to follow, clear,
concise and non emotional

by Jane Coutts


The Crash of MH370 was great read. Easy to follow, clear, concise and non emotional. All available facts have been explored and a very intelligent, well researched book has been written. I believe even "non airline" readers will find it easy to follow. The known facts as well as possible/probable causes are well documented and ensure the reader is not swept up in media hype. RIP to the crew of MH370.

Definitely well worth the read!

________________________________

Very poor and offers virtually nothing
relative to what actually might …







By Dennis W.

On Amazon USA site



Mediocre. Nothing really new. Does not really get into the science and the many many misleading statements by Malaysia.
1. Not providing radar data to the ATSB or to the public.
2. Cell phone connect of Hamid near Penang.
3. SDU logon at 18:25:27 and the issues related to that.
It goes on and on. Very poor and offers virtually nothing relative to what actually might have occurred.




February 21, 2017

________________________________

MH370: Interesting
And Revealing





By Suzanna Hui

On Amazon USA site


Interesting book, very well written and packed with facts and details, supported by an impressive bibliography. Technical information presented in a way that is clear and understandable. Considering flight safety as the thing that matters, recommendations suggested by the author, James Nixon, are essential to improve safe air travel for us all.





February 21, 2017
________________________________

Made it incredibly
easy to follow




By Drew Williams
On Amazon USA site



I'm not a pilot, my father was. He was in the RAAF in WW2 and later as a domestic pilot of small craft. He also flew in a civil formation flying team, so understood risk. He'd worked in personnel for ANA post war and subsequently for Ansett, before he undertook a transformation to become a specialist in aviation insurance broking. Yes, he understood risk, and logic. So I've been around aircraft all my life, as an observer. James has laid out the probable MH370 story clearly and succinctly, which made it incredibly easy to follow. Thus it is a quick read and a valuable one. Provides peace of mind as to what most likely happened. I hope it gives some clarity and peace to those who have been sadly affected by the disaster.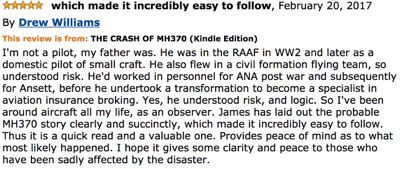 February 20, 2017
________________________________

Easy to read. Informative.
Devoid of tabloid style speculation.




By Egipps
on Amazon USA site


James Nixon is clearly well informed on the subject that he writes about. His discussion of the facts, relation of these facts to other theories and presentation of what he feels happened to MH370 is laid out in a clear and easy to read style. Absolute must read if you have any interest in all in the crash of MH370.




February 20, 2017
________________________________

An illuminating
review by a real Expert



By Basil Brush
on Amazon USA site


A well balanced and informative review from a pilot whose entire career has been focused on safe travel for all. It's about time that the facts and an informed view on the events and possible causes of the loss of MH370 have brought to public attention.

As a passenger for over 40 years, flying all over the world, I expect all parties involved in the business of transporting people by air to be professional and to apply the best practices to ensure the safety of all concerned.

There needs to be be a cultural shift in all areas, on the ground as well as in the air, that allows bad news, or fears, to be communicated upwards without the fear of retribution or loss of face. The delay in activating the most basic of standard operating procedures by the ground staff was inexcusable.

Technical improvements, such as those suggested, are an essential requirement for safer travel for us all but a cultural shift is also essential to the overall environment.

I wonder what response I will receive when I ask the Captain, or FO, on my next flight if they have Plan B on a failure shortly after take off?





February 19, 2017
________________________________

Worthwhile Reading






By Richard Kebabjian
On Amazon USA site


Excellent presentation of the facts relating to the MH370 accident without the rumors and innuendos.


Richard Kebabjian
PlaneCrashInfo.com






February 18, 2017
________________________________

A valuable and welcome contribution to
the body of work surrounding flight MH370

by Mark D. Young



As an aviation safety author myself, I have huge respect for people such as James Nixon and his former colleagues why fly large jets on a daily basis.

They have, during the decades, welcomed me into their fraternity and I have learned a great deal from them in terms of aviation practice, procedures and the day to day pressures of professional flight.

One of these is the edict not to communicate with the media in regards to safety issues or incidents and accidents.

So the author and many of his peers had to sit by and witness the plethora of false information swirling about after the loss of flight MH370. Much of it was fanciful, a lot of it downright disrespectful and very little bore any semblance to the realities involved in operating large jet transport aircraft.

Thankfully James Nixon has now retired from active duty with airlines and can share with the world his intimate knowledge of procedures and operations with specific reference to the mystery of flight MH370.

This he does with economy, precision and a style that is easy to follow.

He debunks almost all of the creative and fanciful theories about what happened in the cockpit of 9M-MRO by stating the known, undisputed facts and overlaying them with knowledge of the most likely actions which professional pilots such as those in command of flight MH370 would have taken in order to try and save their - and their passenger's - lives.

The author has stuck to official, known and verifiable data, which is (as I have found) the safest way to go and he avoids the many potential political traps and nuances which haunt this accident save, perhaps, for accepting that it was an Australian who first discovered that recovered debris could only have originated in an area north of the area searched to date.

That, however, is a tangent for, no matter their involvement, all who are working long, hard hours on trying to resolve this mystery deserve the thanks of every person who has flown aboard a jetliner or who hope to do so in the future

The book is the richer for the factual, a-political and non-sensationalistic approach as it provides a pithy, believable and logical assessment of the flight and its most likely end.

Even those who believe in space aliens and tractor beams may find pause in this work.

For the rest of us with our feet firmly on the ground, this is a valuable and welcome contribution to the body of work surrounding flight MH370.


Mark D. Young

Author: "A Firm Resolve: A History of SAA accidents and Incidents 1934-1987"

Feb 18, 2017
________________________________


Gripping, Captivating, Informative
Educational, Intriguing






by Julie-Anne Eastlake



Wow! Gripping, Captivating, Informative, Educational, Intriguing, and makes you want more! Factual and to the point, with Terminology Interpretation for the novice of novices.

Also thrown in is the little snippets of the Author's personality, obviously a great sense of humour, made me giggle and sometimes burst out in laughter. Having said that, there is always that sadness in the reality that souls were lost and their families are still waiting for closure.

This would have to be the best book that I have read in a very long time.

Grabbed my interest right from the first page to the very end of the book, where I found myself reviewing recommended material from the Author. I am now fully aware of how to put out a Lithium Battery Fire in any device I currently have, which I never knew how to do, but now realise thanks to James Nixon this knowledge is absolutely a necessity in the modern IT world that we live in today.

This book has left me with the determination to assist in any way I can to get authorities to resume the search for MH370 in the area of the 7th arc and 35 degrees south. In the scheme of things this is not really that big a task. Read the book, you will know what I mean, you will also learn the facts of MH370's ill-fated flight from an experienced Pilot with the passion to explore the facts and the theories to bring to you the truth! Not the glamourized press version that we have all been exposed to.

Congratulations James, I have no hesitation in recommending this book to anyone, you present the FACTS in an easy to read format. LOVE the "Recapping" at the end of every chapter.

5 out of 5

I eagerly await your next project!

Julie-Anne Eastlake

Major Account Manager,
Ex Flight Attendant

Feb 17, 2017

________________________________

Extraordinary - Engaging - Factual
Formative - Intellectual
and very sad indeed.





by Angela Marsh


I have read this book from front to back and in between and can honestly tell you that I am more correctly informed about the events on the day MH370 went missing.

There are many of us that are novices, or green at the gills when it comes to aviation jargon, but this book after reading it, will give you a broader spectrum of why many theories of what happened to MH370 cannot be relevant or justified, by a highly recognised expert in the Aviation Industry.

If you want to know the facts and James theories, about MH370, and not a media hyped version, then I strongly recommend you read this book, "The Crash Of MH370" by James Nixon.


Feb 17, 2017

________________________________

A clear and present 10 out 10





by Shane Eastlake


Unfortunately I do not have an account with kindle so as requested I will gladly give you my review on your book "The crash of MH370".

Coming from an aviation background myself with a keen interest in Air Accident Investigations I found this book totally infectious.

The more pages I read, the more I wanted to know. Your knowledge and experience is evident in this book as is your humour on occasion which I found hilarious at times.

Your intricate knowledge of aircraft systems and procedures flowed effortlessly to the reader losing nothing in it's translation by way of importance or significance.

I found the flow of subject material easy to comprehend as there was no jumping from one area to another which can confuse some readers. This book flowed naturally and I liked the list of information at the end of each section just to recap on what was just read. Very clever and reassuring to the reader as it confirms their understanding and comprehension of what they just read.

Overall I thoroughly enjoyed your book James so much so I couldn't stop reading it until nearly the last pages. I was totally transfixed and immersed in every thought, every word from beginning to end.

I would rate this book a clear and present 10 out 10. Informative, factual and absolutely fun to have read.

Well done Captain James :)


Shane Eastlake

Ex Operational Urban Firefighter, Commercial
Diver (As 2185.3) and Aviation Enthusiast.

Feb 16, 2017
________________________________

MH370





by Derek Scales


Over the last two years there have been many possible scenarios for the missing MH370, offered by aircraft industry people and the interested but still ill equipped authors.
The author of The Crash of MH370, James Nixon, details his extensive experience with aircraft and the protocols that surround their safe operation to give considerable credence to his hypothesis.
Nixon espouses his understanding of all the possibilities for the plane's disappearance; he started researching the week after the 777 was reported overdue; he has accumulated an immense cache of knowledge, facts and irrelevancies.
His book is not unlike the findings of a lengthy coronial inquest; readers must accept airline jargon and tolerate the chapter recapitulations. It is full of unimpeachable facts and statistics.
What is more interesting, Nixon arrived at his conclusion just weeks after MH370 did not respond to the first of many urgent calls.


Feb 12, 2017

________________________________

I THE REVIEWS I


I GUEST SPEAKER I

HOME PAGE I MOBILE PAGE I MEDIA KIT I RADIO GRABS


9H-MRO I DEPARTURE POINT I VANISHING POINT I MAPS I LETTER


THE TURNBACK I 777 INTERCEPTION I BORDERS I THE LAWSUIT


LEGAL TERMS & CONDITIONS I LINKS I SITEMAP


CONTACT US I KINDLE PROBLEMS? I QUESTIONS ANSWERED


sitemap

links
________________________________

www.CrammondMEDIA.com LINK
UPDATED 19th APR 2017